Symbolism Of A Kiss
A kiss is a simple gesture that symbolizes many feelings. It can be an expression of affection or a declaration of love or an expression of respect. All kisses have different meanings depending on whom the kiss was given to and how. Read on to know more about the different types of kisses and what these might symbolize:
Kiss symbol 1: Peck on the cheek: When a mother kisses her child on the cheeks, it symbolizes motherly love. In many cultures, people greet friends and family by kissing each other on both cheeks twice. If the peck on your cheek comes from your lover, partner or spouse, it is again a sign of affection.
Kiss symbol 2: Kiss on the forehead: Kissing on the forehead symbolizes love and care. Whether it is your parents or your spouse, when somebody kisses you on your forehead, he or she usually means to say that "I love you and I care for you". A kiss on the forehead has no sexual connotation to it.
Kiss symbol 3: Kiss on the lips or neck: A smooch on the other hand definitely has sexual connotation to it. A smooch is usually exchanged by lovers or partners. It symbolizes that the two people are in a romantic and intimate relationship. The same goes for a kissing on the neck or behind the ear. These intimate kisses are usually a part of the foreplay.
Kiss symbol 4: The wedding kiss: When the groom kisses the bride on her lips just after getting married, it symbolizes his love for her and that he would always take care of her. This ceremony is a part of many cultures across North America, Europe and Australia.
Kiss symbol 5: Kiss the ring: This is symbolic gesture which is reserved in reference to the Pope. Kissing the Pope's ring symbolizes respect paid by people when granted with papal audience.
More Articles :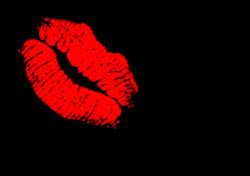 :: Featured Article ::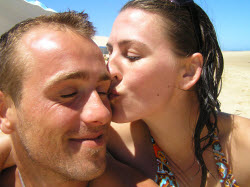 Your relationship with your boyfriend is special and so is every kiss you share with him. Although kissing is a very common human interaction, when you kiss your partner, it displays your romantic feelings and love for him. There are many different ways to kiss your boyfriend and each speaks a different language. Let us go through some different ways of kissing your boyfriend. More..
:: Advertisements ::